Best NSW Solar Feed-In Tariffs
Solar feed-in tariffs are a payment that you receive from your chosen electricity supplier in exchange for any surplus clean energy that your solar panels feed back into the grid.
There have been many changes to this legislation in New South Wales over the last few years.  When solar panels were new 10 years ago, the feed-in tariff that residential households received for exporting to the grid was a lot higher than it is today, which gave the industry a good kickstart.
Since then, the amount received for solar exports has dropped considerably. This has led some people to question whether solar is worth it in Australia. (Spoiler alert: We come to the conclusion that going solar still makes sense with enough value to be created simply be reducing the amount of energy you buy off retailers)
Many solar consumers are also motivated to take action on climate change and reduce their own personal carbon footprint. 
In most of the scenarios we have looked at recently, we have observed the payback period to be anywhere between 3 – 5 years for an appropriately sized residential solar system (without a battery). Of course this depends on the brand and model of solar panels and whether there are any extra costs for your installation.
If you're looking for the best solar feed-in tariff rates in NSW, we've provided you with a table that lists the rates of the major electricity retailers in the state. We've also provided you with other considerations we recommend you take into account in your decision making process
Be careful of retailers offering a high solar feed-in tariff as a drawcard
Don't fall for the trap of jumping for a retailer solely on having the highest feed-in tariff rate
In most cases the plans with the highest feed-in rates also have high electricity purchase rates. It is important to get an overall picture of the net spend on each electricity plan to make an informed decision.
Find the best Solar Electricity Plan in your area now
Solar feed-in tariff rates in NSW:


RetailerStateMin Solar FITMax Solar FITNotable ConditionsMojo PowerNSW7.5c22.0cCapped at first 5kWh per dayRed EnergyNSW6.0c18.0cCapped at first 5kWh per dayDiscover EnergyNSW6.0c16.0cCapped at 300kWh per quarterActewAGLNSW8.0c15.0cSystem size 10kW maxAGLNSW7.0c12.0cSystem size 10kW max1st EnergyNSW6.0c11.0cGEE EnergyNSW5.0c11.0cCapped at 10kWh per dayMomentum EnergyNSW0.0c10.0cSystem size 10kW maxSmart EnergyNSW7.0c10.0cOrigin EnergyNSW5.0c10.0cOnly if buy solar through OriginReAmped EnergyNSW0.0c9.0cSystem size 10kW maxElysian EnergyNSW0.0c9.0cSystem size 10kW maxCovaUNSW0.0c8.5cPeople EnergyNSW8.0c8.0cQEnergyNSW8.0c8.0cSumoNSW5.5c8.0cEnergy AustraliaNSW7.6c7.6cSystem size 10kW maxEnova EnergyNSW0.0c7.0cEnergy LocalsNSW7.0c7.0cDodoNSW7.0c7.0cBright Spark PowerNSW7.0c7.0cCircular EnergyNSW7.0c7.0cElectricity in a BoxNSW7.0c7.0cIndigo PowerNSW7.0c7.0cGlow PowerNSW7.0c7.0cDiamond EnergyNSW0.0c7.0cOVO EnergyNSW0.0c7.0cAlinta EnergyNSW6.7c6.7cInverter size 5kW maxRadian EnergyNSW6.0c6.0cPooled EnergyNSW4.5c6.0cSimply EnergyNSW5.5c5.5cTango EnergyNSW5.5c5.5cMust install through Tango and capped at 3.5kWh per dayNectrNSW5.5c5.5cPowerdirectNSW5.0c5.0cPowershopNSW0.0c5.0cSystem size 10kW maxKogan EnergyNSW4.4c4.4cFuture X PowerNSW4.0c4.0cGloBird EnergyNSW1.0c3.0cLocality Planning EnergyNSW0.0c8.5cOn by EnergyAustraliaNSW0.0c0.0cArc Energy GroupNSW0.0c0.0cAmber ElectricNSWMarket linked FIT (Variable)PowerclubNSWMarket linked FIT (Variable)Social EnergyNSWMust install solar and battery through Social Energy
*Please note that we periodically update these tables. Please email us at [email protected] if anything is out of date.
Why you should consider other factors apart from just feed-in tariffs


As mentioned above, because the amount received from solar feed-in tariffs has decreased considerably in the last 10 years, consumers should consider other factors in their decision making process
Beyond financial factors, there may be other factors you may consider such as providing good customer service. There's nothing more frustrating to Australian consumers than talking to someone in an outsourced customer support team. 
For others, choosing a retailer that is more environmentally friendly even if they come with a higher price tag.
Although the premium tariffs are no longer in place, low solar PV system prices mean that they are no longer as important as they once were for solar to make financial sense. Increasing electricity costs also provide an incentive to invest in a solar PV system, as it offers homeowners a means of taking control of their energy bills (read more aboutsolar self-consumption
The trend towards solar self-consumption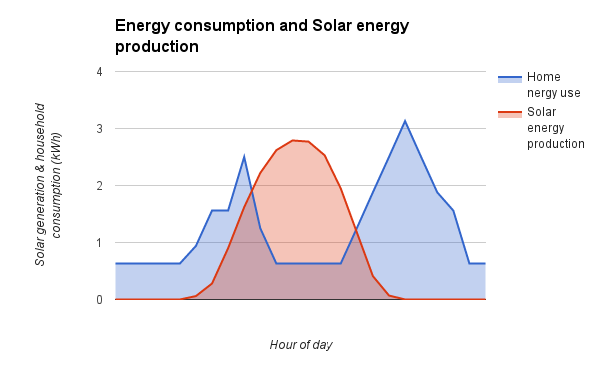 An example how home energy consumption and solar production from a 5kW solar system intersect during the day. The red area above the blue line represents exported solar energy.
There is now a trend of one's motivation towards solar self-consumption, which focuses on designing an appropriately sized system for your energy bill and shifting as much of your power usage as possible to 'solar power hours'.
A typical household buys energy at 20-30 c/kWh and is offered a feed-in tariff of 5-10 c/kWh. Its a logical conclusion that offsetting the amount of energy you buy from your electricity retailer is more valuable than selling it back to them. This also supports the concept of a solar battery to store excess energy to reuse at night times. 
So it's clear that the justification for going solar in NSW today is for 'self-consumption'. Hopefully you'll be informed about how much you can get for your excess solar power from the major electricity retailers so you can make an educated decision about what one to choose.
Is there a minimum feed-in tariff in NSW?
At the moment, there is no mandatory minimum feed-in tariff rate in NSW. Instead, individual electricity retailers assign a value to exported solar power as they see fit. It is a competitive market so electricity retailers do have an incentive to offer a reasonable feed in tariff to win customers with solar panels installed.
According to Energy NSW the benchmark rate is 6.0 to 7.3 cents per kWh for 2021 in NSW.
Find the best Solar Electricity Plan in your area now
What retailer has the best solar feed-in tariff in NSW?
At the time of writing (June 2021), Mojo Power currently has the highest solar feed-in tariff offer in NSW, whereby the maximum a customer can get is 22 cents per kilowatt hour (c/kWh). ReAmped Energy comes in second with 21 c/kWH with Red Energy at third with 18 c/kWh.
Each of those plans is subject to eligibility criteria and specific terms and conditions which you can read on their websites.
What are the solar system network limits in NSW?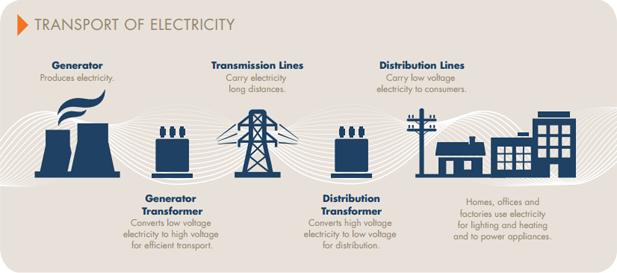 How electricity is transported. (Image via AEMO. Click to enlarge.)
The Distributed Network Service Providers (DNSPs) are the companies that own the electricity infrastructure (poles & wires). In NSW there are three companies that own different regions across the state (see table below). 
These companies have limits which dictate what size solar systems you are able to install and how much electricity you are able to export back into the grid. 
The electricity grid was originally designed in Australia which was designed with the view of electricity being transferred unidirectionally from coal fired power plants across the network to homes. Now with over 2 million home solar systems in Australia generating their own electricity the grid is tackling issues such as rising voltages from exported solar energy. 
The solar system size limits and export limits are their current way of controlling those issues. Hopefully in the future smarter grids and technology will enable these limits to be relaxed.
NetworkDescriptionReferencesAusgridA limit of 10kW for small-scale systems (inverter capacity)
Large scale generation installations (i.e. systems between 10kW and 30kW) require that an additional submission for an embedded generator connection application be made.Connecting embedded generationEssentialYou application for a solar connection will be instantly approved if you system meets the below kW and your application meets all other requirements:
Rural: 3kWUrban: 5kW
There may be export limitations due to network constraints.
Inverter capacity limits include battery inverter (if this is separate from the solar inverter)Network information EndeavourSingle phase: Up to a 5kW system
3-phase: Up to a 30kW systemInstalling a new solar generator
History of feed-in tariffs in NSW


Currently there is no legislated minimum feed-in tariff in NSW, so electricity retailers are free to offer what they like – although it is a competitive market.
Commencing on the 1st of January 2010, the NSW Solar Bonus Scheme offered a generous gross feed in tariff of 60c per kWh for 7 years until December 2016. However back then the upfront cost of solar was also almost 5 times what it is today, so the scheme was designed to help kickstart the industry. 
This rate was significantly reduced to 20c per kWh overnight on the 27th of October 2010 when a bill was passed through NSW parliament resulting in a day of chaos for the solar industry.
Eventually the premium feed-in tariff scheme was closed to new applications from midnight 28 April 2011 by the NSW Government.
The scheme finally ended on 31 December 2016 as initially scheduled and all legislated payments ceased.
Now under the open market conditions retailers compete for solar customers electricity plans partly on the feed in tariffs they offer. The wholesale electricity price in the middle of the day has dropped over recent years as the millions of solar systems produce excess power which has applied some downward pressure on feed-in tariff rates. 
This is now an important consideration for solar buyers as the goal is not simply to put as many panels on the roof to generate as much electricity as possible. In most cases the best ROI can be reached by matching the size of the solar system to the daytime energy needs of the house, to ensure that you are focusing on self-consuming solar power and not relying on a feed in tariff.
Many customers are now installing a battery with their solar system or retrofitting a battery to their existing Solar PV system. Here's a few case studies from Sydney to consider.
Conclusion
We hope you've come away more informed about how to choose an electricity retailer that meets your needs. As mentioned, remember not to jump on a provider solely on giving you the highest feed-in tariff amount. 
Consider other factors such as payback period and usage or supply rates in your decision making process. It's also a good idea to consider non-financial concerns too such as customer service.
Not installed solar yet? Compare solar quotes online now
Compare Now
The post Best NSW Solar Feed-In Tariffs appeared first on Solar Choice.